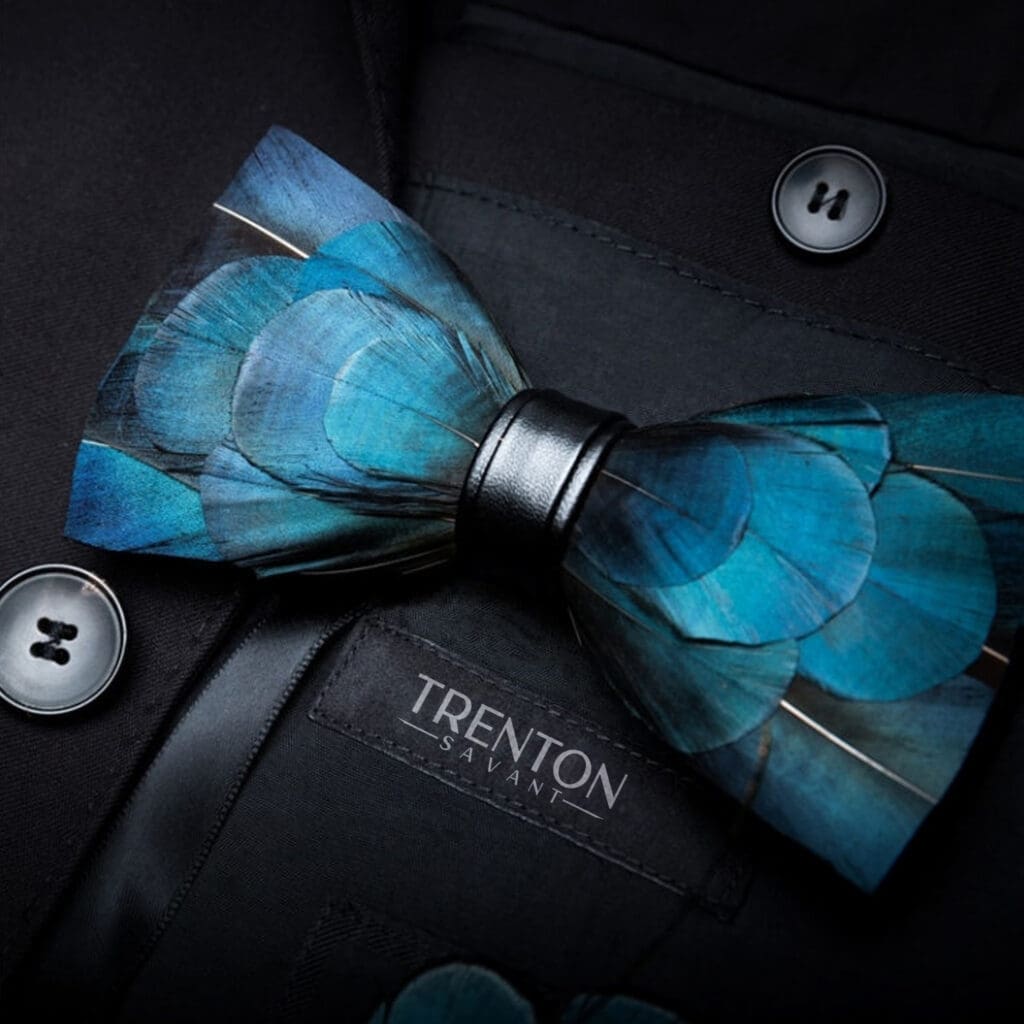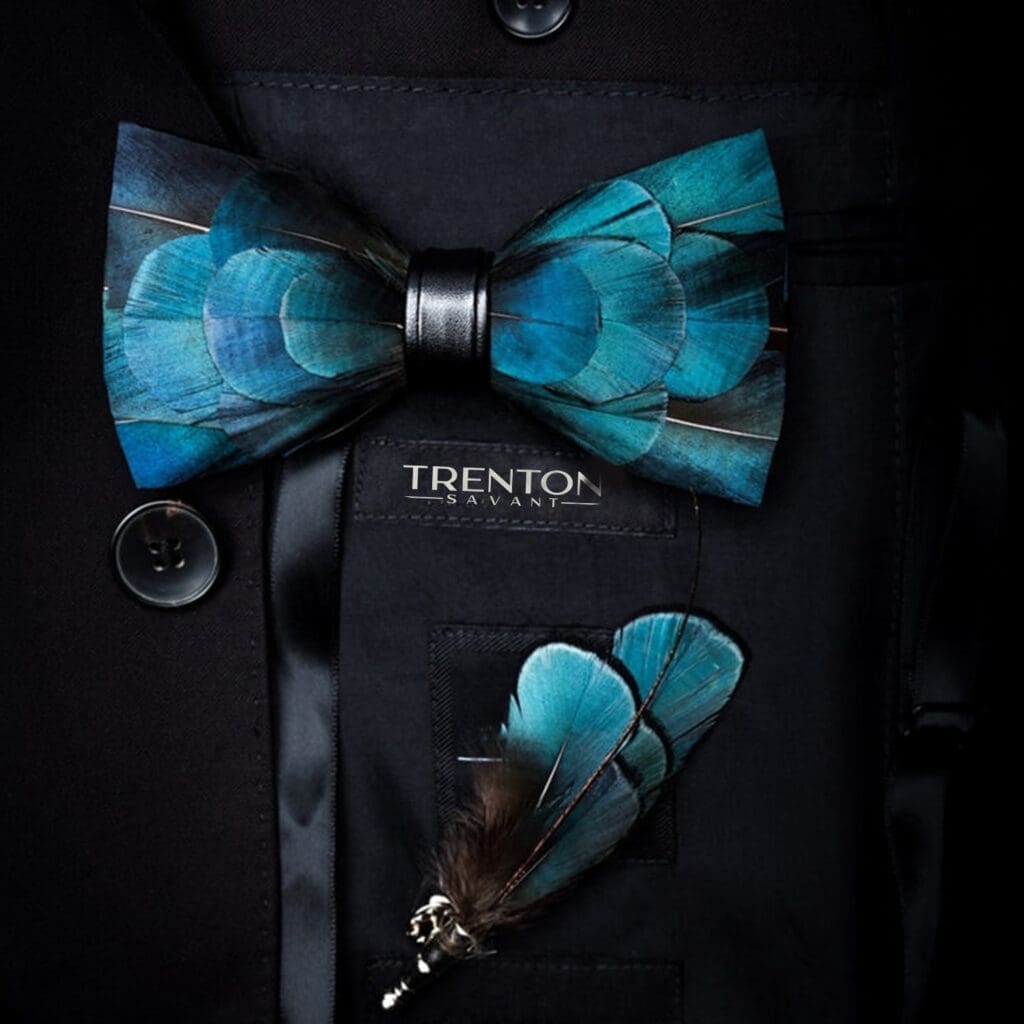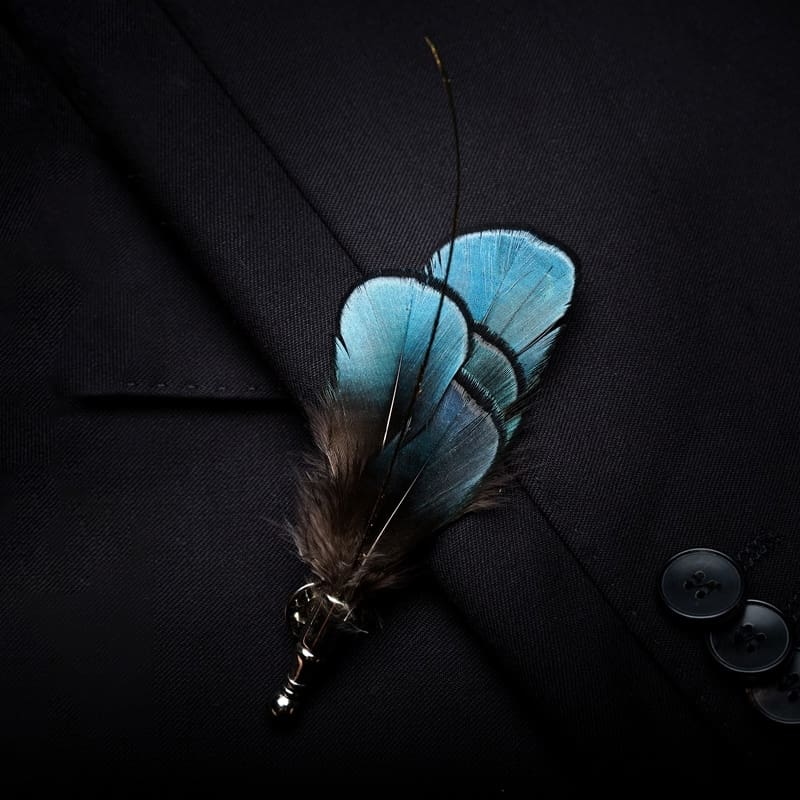 The Azure Ensemble Turquoise Feather Bow Tie & Pin
Oh, what stories the ocean would tell if it could! Now, imagine translating those tales into a style that could adorn your attire. Intriguing, isn't it?
Allow us to introduce the "Azure Ensemble" Turquoise Feather Bow Tie & Pin set – the style narrative you've been looking for.
Crafted for the gentleman who appreciates the finer things, our "Azure Ensemble" is more than an accessory.
It's an echo of the ocean's charm and mystery.
Like the enchanting depths of the sea, each feather reflects an extraordinary depth of color – a turquoise canvas kissed with hints of deep-blue.
This beautiful accessory set features a layered aesthetic, giving it a unique 3D quality.
The layers of color, from a soft seafoam to a rich cerulean, create a depth of visual appeal that is captivating and sophisticated.
It's an accessory that not only complements your attire but also brings an added layer of intrigue and personality.
But, why stop at a bow tie? Let's paint the whole ensemble with the ocean's palette.
Our matching lapel pin completes the look, letting you fully immerse in the sea-inspired style narrative.
This charming set is designed to provide a touch of creative elegance to any ensemble.
Our Azure Ensemble isn't just about capturing the essence of the ocean.
It's about harnessing its calm, its mystery, and its endless depth. It's about reflecting those qualities in the way you present yourself.
Because true style, like the sea, isn't just about the surface; it's about the depths beneath.
Product Details:
Material Composition: Feathers, Cotton
Color Scheme: Serene Turquoise with Hints of Deep Ocean Blue
Size: Exquisitely Crafted to 11.5CM X 6.5CM
Package Includes: The Azure Ensemble Feather Bow Tie and Matching Lapel Pin
With the "Azure Ensemble," you're not just wearing an accessory; you're embracing a style that's as deep and as captivating as the ocean itself.
So, dive in, gentlemen, and let the sea of style take over!