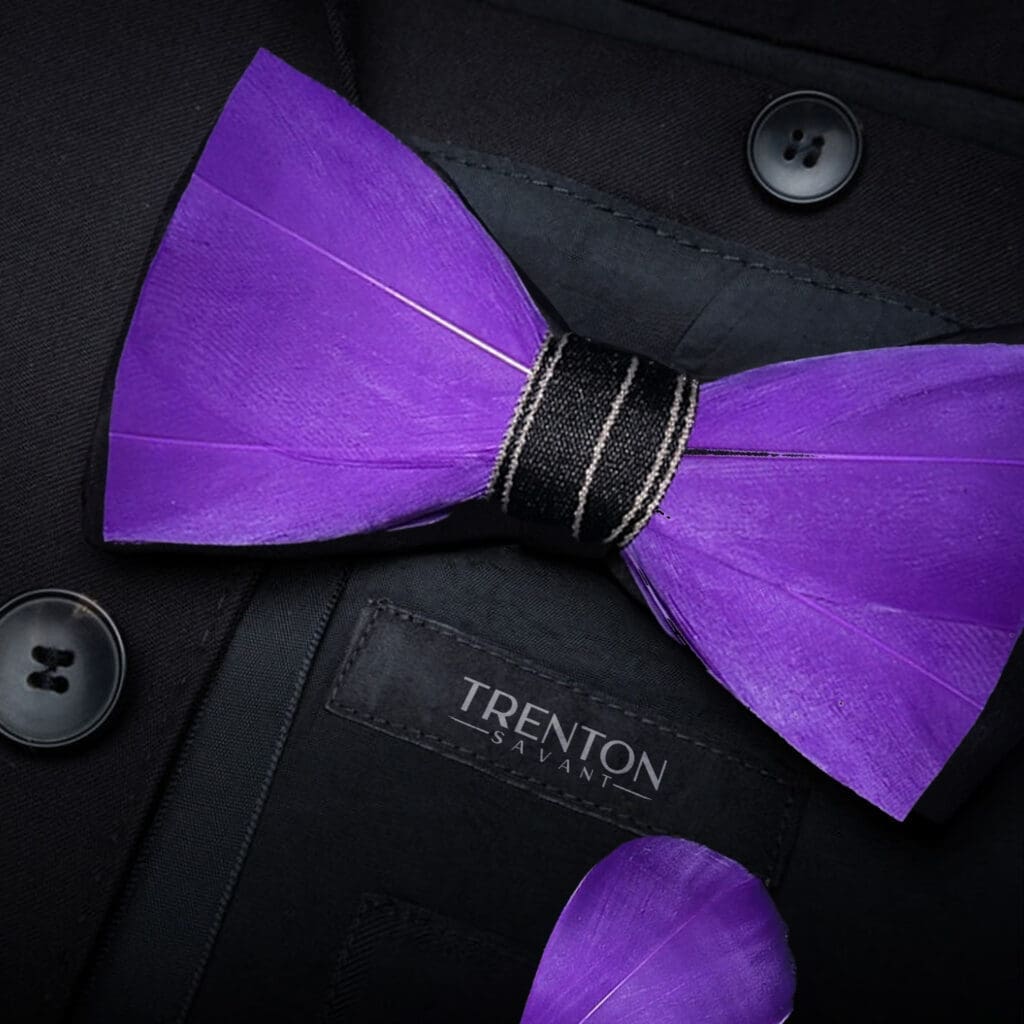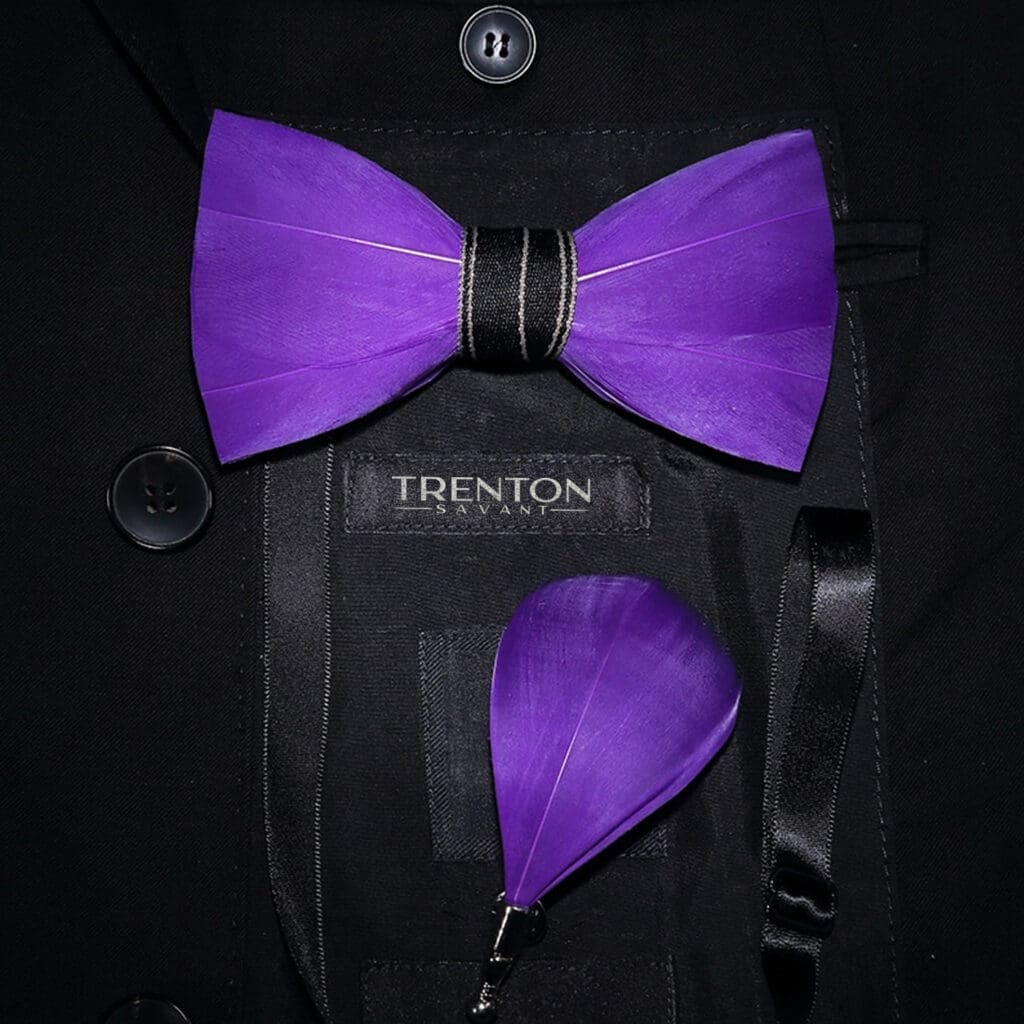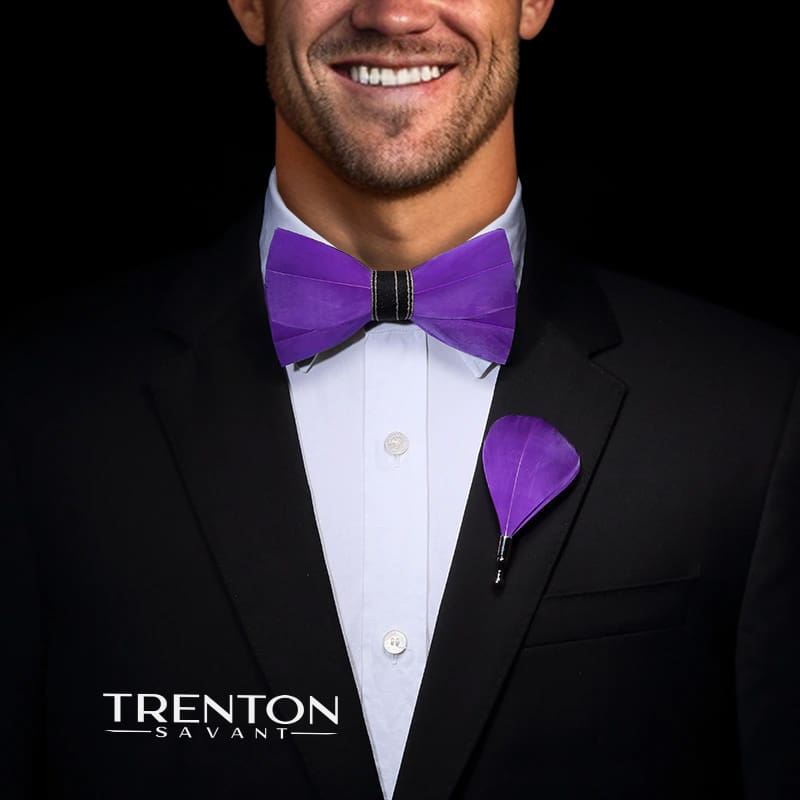 The Royal Plumage Feather Bow Tie & Pin – A Class Above the Rest
Purple: The Color of Royalty
I once wore a purple tie to an exclusive event, and it created an unexpected conversation starter. Much like that experience,
The Royal Plumage Feather Bow Tie has the power to enchant.
Purple has always been associated with royalty, nobility, and prestige.
Embrace the elegance of solid purple in your attire, symbolizing your majestic presence and unique sex appeal.
The Art of Craftsmanship
The Royal Plumage is not merely an accessory; it's an experience.
Every stitch and feather has been meticulously selected and aligned, offering you the luxury of bespoke craftsmanship.
Your Royal Statement
Don a Feather Bow Tie that embodies your belief in the finer things in life.
Be it a business meeting or a romantic evening, let The Royal Plumage narrate your tale of success, charm, and sophistication.
Why Choose The Royal Plumage Feather Bow Tie & Pin?
A Blend of Tradition and Innovation
The blend of traditional craftsmanship with innovative design creates a timeless piece that compliments your refined taste and style.
The Royal Plumage is the epitome of luxury, with a modern twist.
Manly Elegance, Seductive Appeal
Purple is not just a color; it's a mood, a vibe, a feeling that exudes confidence and desire.
Wearing The Royal Plumage, you'll radiate a manly elegance that's both enticing and sophisticated.
A Personal Touch – A Journey with The Royal Plumage
Just like my grandfather's pocket watch that reminds me of timeless elegance,
The Royal Plumage Feather Bow Tie is not just an accessory but a personal connection.
It's a reminder of who you are, what you stand for, and where you're going.
In Conclusion – The Royal Plumage Feather Bow Tie & Pin
For the modern man who embraces authenticity, integrity, and luxury,
The Royal Plumage Feather Bow Tie & Pin offers more than style; it's a lifestyle. It's your statement piece that speaks volumes about your confidence, your anticipation for desire, and your unapologetic belief in yourself.
Embrace the majestic elegance, the royal allure, and let the world know who you are.
With The Royal Plumage Feather Bow Tie, you're not just wearing an accessory; you're donning your crown, your story, your grace.
It's not just a feather bow tie; it's a symbol of your royal journey. Wear it with pride. Wear it with confidence.
Wear The Royal Plumage.
Product Details:
Material:
Feathers, Cotton
Color:
Purple
Size:
Skillfully crafted to measure 11.5CM X 6.5CM
Package Includes:
Feather Bow Tie and Matching Lapel Pin