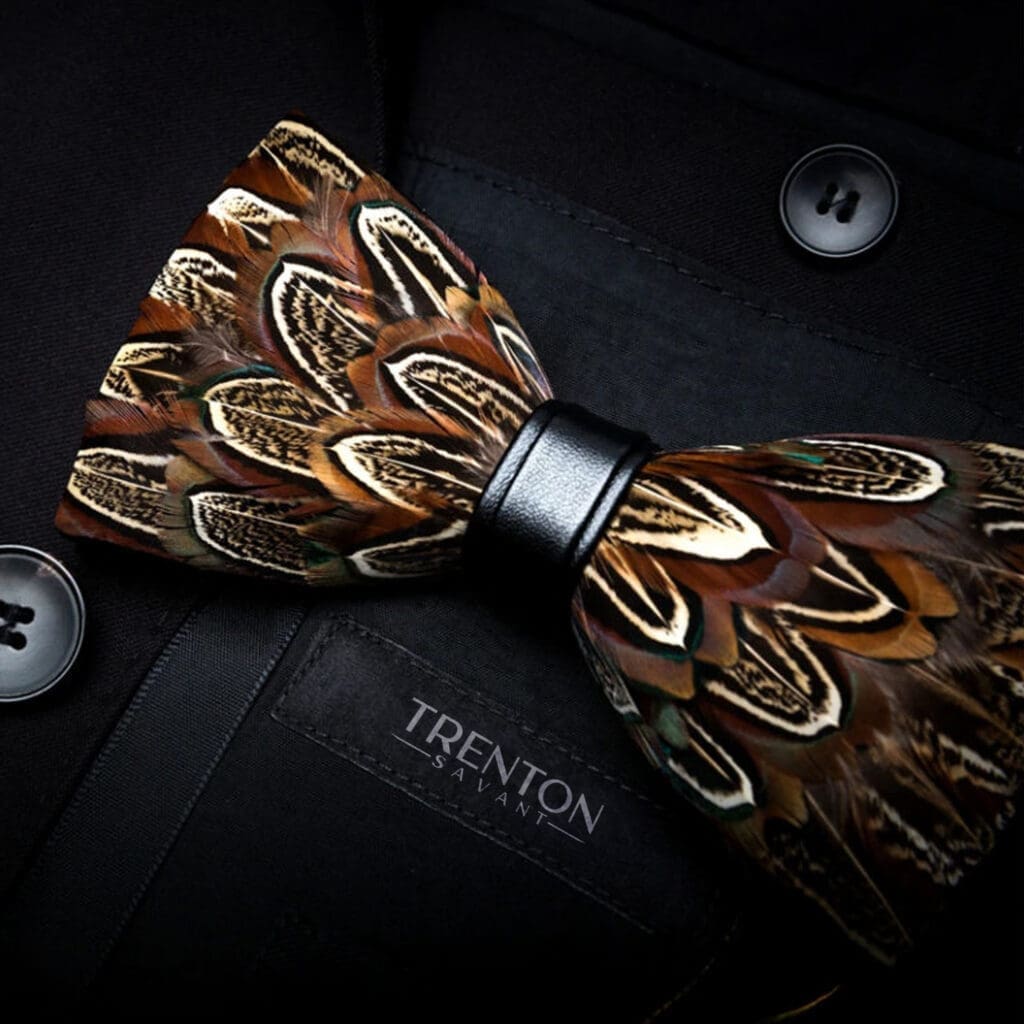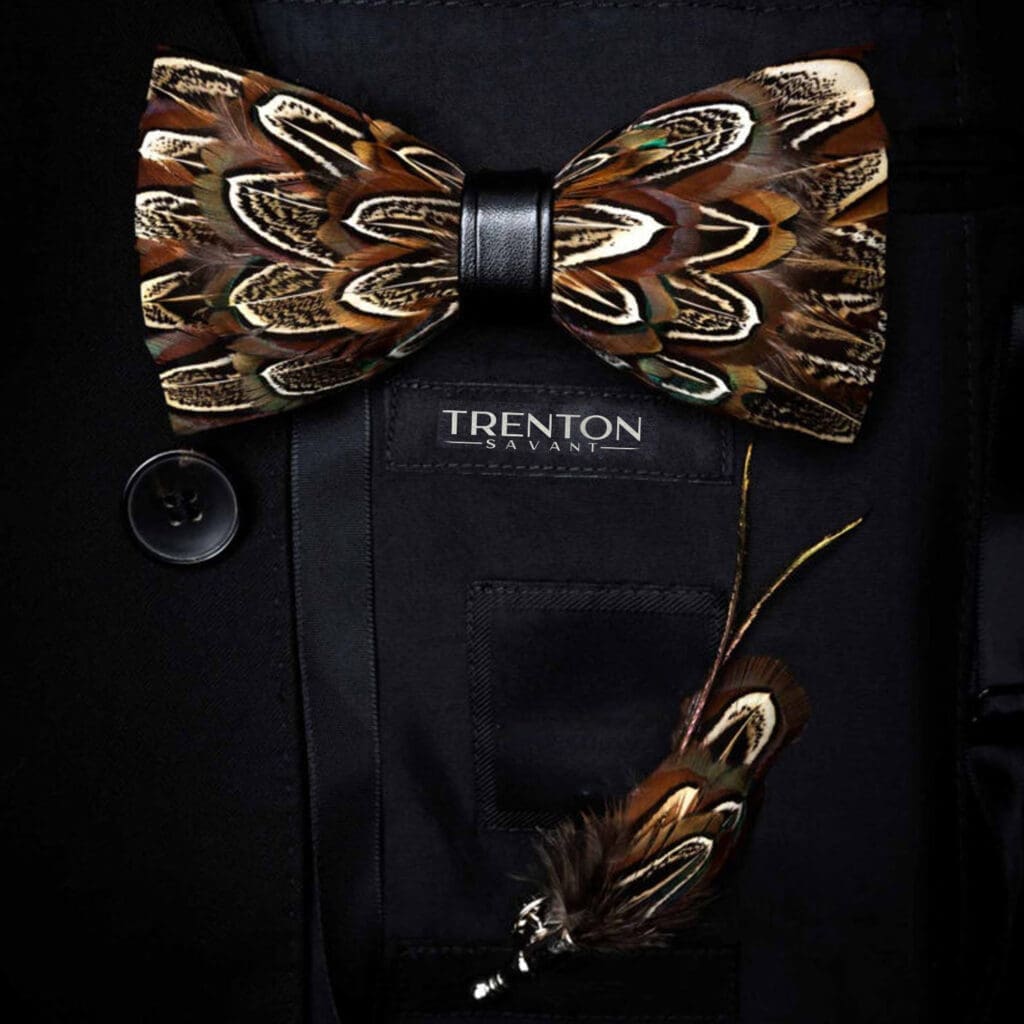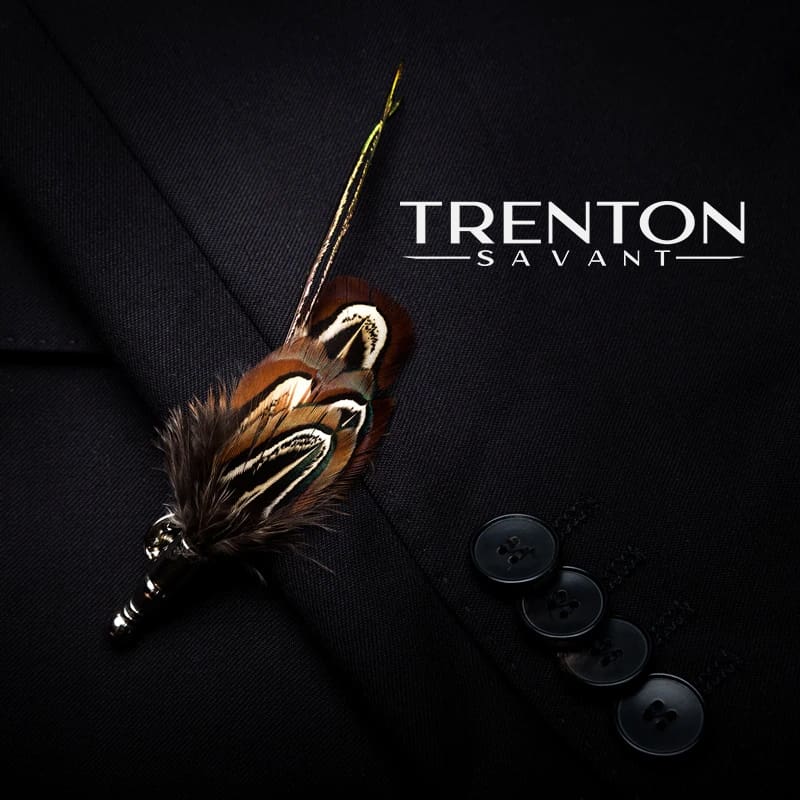 The Gentleman's Pheasant: Unique Patterns Brown Pheasant Feathered Bow Tie & Pin
Step Into Distinction
This Feather Bow Tie is akin to that old leather chair in my study room where I penned my first novel. It's unique, rich, and holds a charm that tells a story.
An Elegant Choice
The Pheasant feathers symbolize an earthy elegance that reminds me of a walk through a countryside estate. Its patterns whisper a melody that resonates with class and grace.
For the Adventurous Soul
The unique patterns and hue of the brown Pheasant feathers are like the trails I've hiked and the oceans I've sailed. It's a call to the wild, to exploration, and to embracing one's adventurous spirit.
The Artistry Behind The Gentleman's Pheasant Feather Bow Tie & Pin
Handcrafted Excellence
Each Gentleman's Pheasant Feather Bow Tie is crafted with the care and precision of an artisan's hand. It reminds me of my grandfather's old watch, a timeless piece that was handed down through generations.
A Celebration of Masculinity
With its robust and earthy tones, this Feather Bow Tie speaks to masculinity. Like the deep notes of a vintage cologne, it's subtle yet profound.
Experience Luxury
The Gentleman's Pheasant is not merely a bow tie; it's a luxury experience. Similar to the first time I sat behind the wheel of a vintage sports car, it promises thrill and elegance in equal measure.
Uniqueness Guaranteed
No two Gentleman's Pheasant Feather Bow Ties are alike, reflecting the uniqueness of each wearer. It's like finding that perfect little café in a foreign city that becomes your secret escape.
In Conclusion – The Gentleman's Pheasant Feather Bow Tie & Pin
Discover a world where tradition meets innovation, where unique patterns are celebrated, and where luxury is an experience. Embrace your inner explorer and join the ranks of men who choose to wear their individuality.
Wear the Gentleman's Pheasant Brown Pheasant Feathered Bow Tie & Pin, and make your statement today. Let your style be your legacy. You are not just wearing a Feather Bow Tie; you're embracing an exclusive way of life.
Product Details:
Material:
Feathers, Cotton
Color:
Black & Ornage
Size:
Skillfully crafted to measure 11.5CM X 6.5CM
Package Includes:
Feather Bow Tie and Matching Lapel Pin