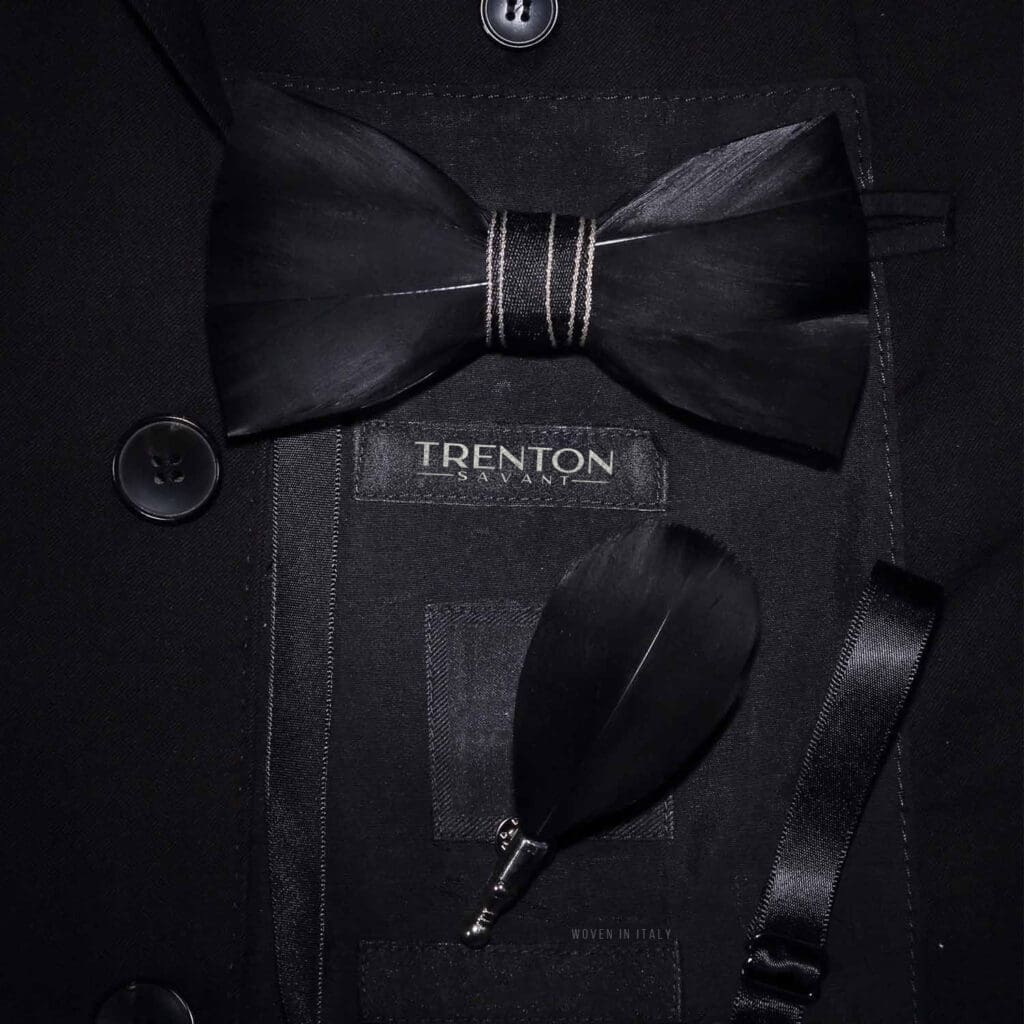 The Noir Majesty Feather Bowtie and Pin Ensemble – Unleashing the Power of Black
Uncover the charisma of the Noir Majesty, a feather bow tie designed for the man who is bold, confident, and radiates undeniable appeal.
Masterpiece of Craftsmanship
Crafted with the finest black feathers, each Noir Majesty Feather Bow Tie is a testament to meticulous attention to detail, offering an impressive display of craftsmanship.
The Power of Black
Immersed in the richness of solid black, the Noir Majesty is more than a feather bow tie—it's your secret weapon to leaving lasting impressions.
The Noir Majesty – A Symbol of Unapologetic Boldness
In the language of fashion, black is a statement of power, authority, and sophistication. The Noir Majesty feather bow tie lets you declare these qualities with unmatched elegance.
Black – The Color of Elegance
The Noir Majesty isn't just a feather bow tie—it's an embodiment of elegance. Draped in black, it projects an aura of sophistication and sex appeal that's hard to resist.
Embrace Your Boldness
Adorning the Noir Majesty is an affirmation of your bold spirit. As you embrace its elegance, you also step into a world of boundless confidence and unmistakable charm.
Make Your Mark
The Noir Majesty Feather Bow Tie is more than just a fashion accessory—it's a statement of your unique narrative. Each time you wear it, you share a piece of your story, a tale of elegance, boldness, and undeniably exquisite taste.
The Noir Majesty Feather Bow Tie is more than just an accessory—it's a testament to a man's timeless style. A man who is not afraid to embrace his bold spirit, exuding confidence, and charisma with every stride. Experience the elegance of the Noir Majesty, make your mark, and let the world bear witness to your indisputable style.
Product Details:
Material:
Feathers, Cotton
Color:
Black
Size:
Skillfully crafted to measure 11.5CM X 6.5CM
Package Includes:
Feather Bow Tie and Matching Lapel Pin