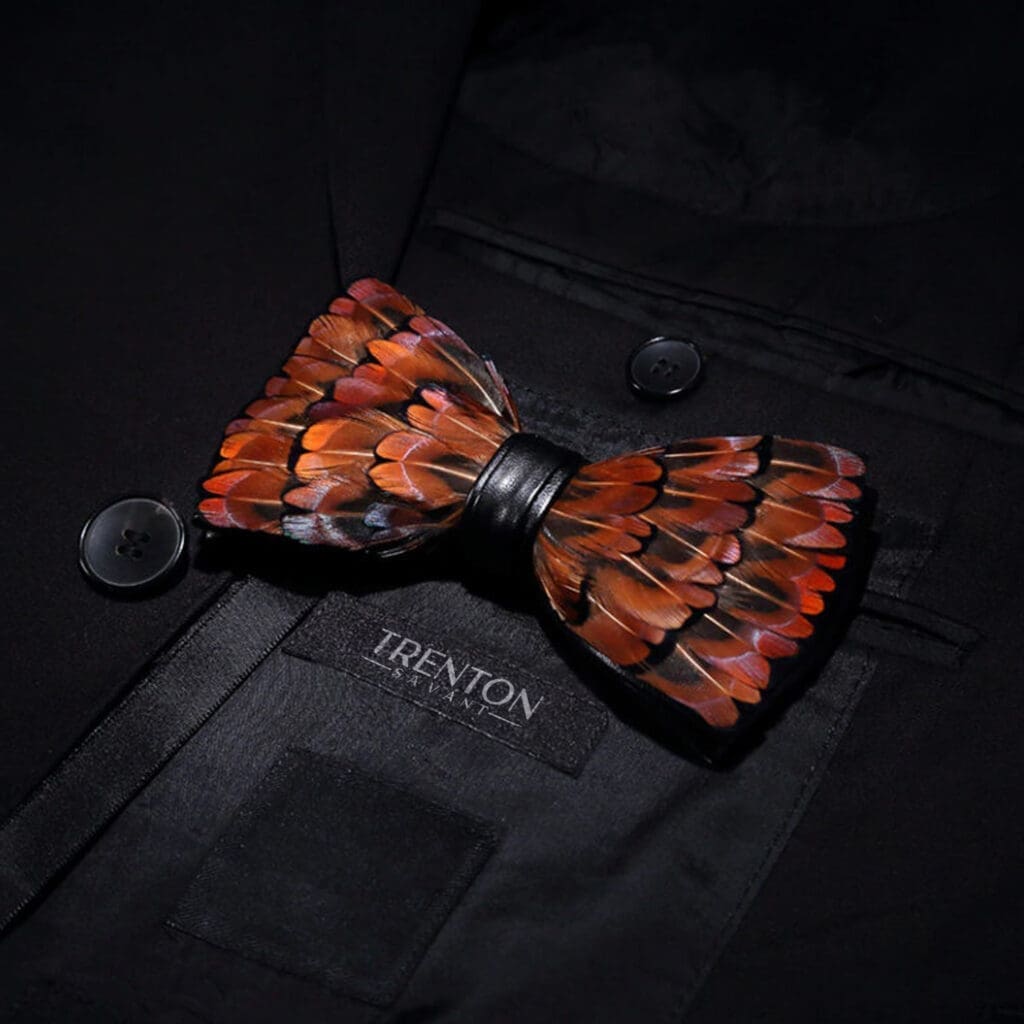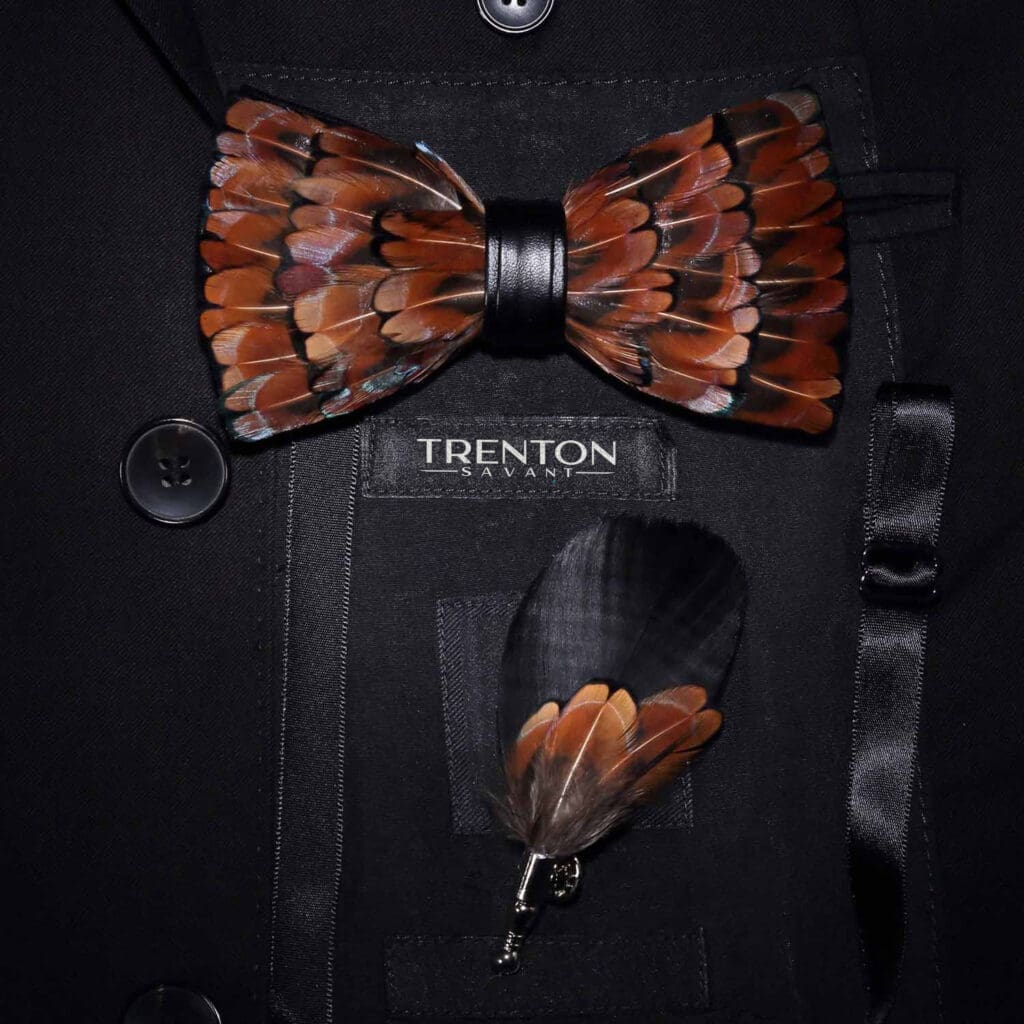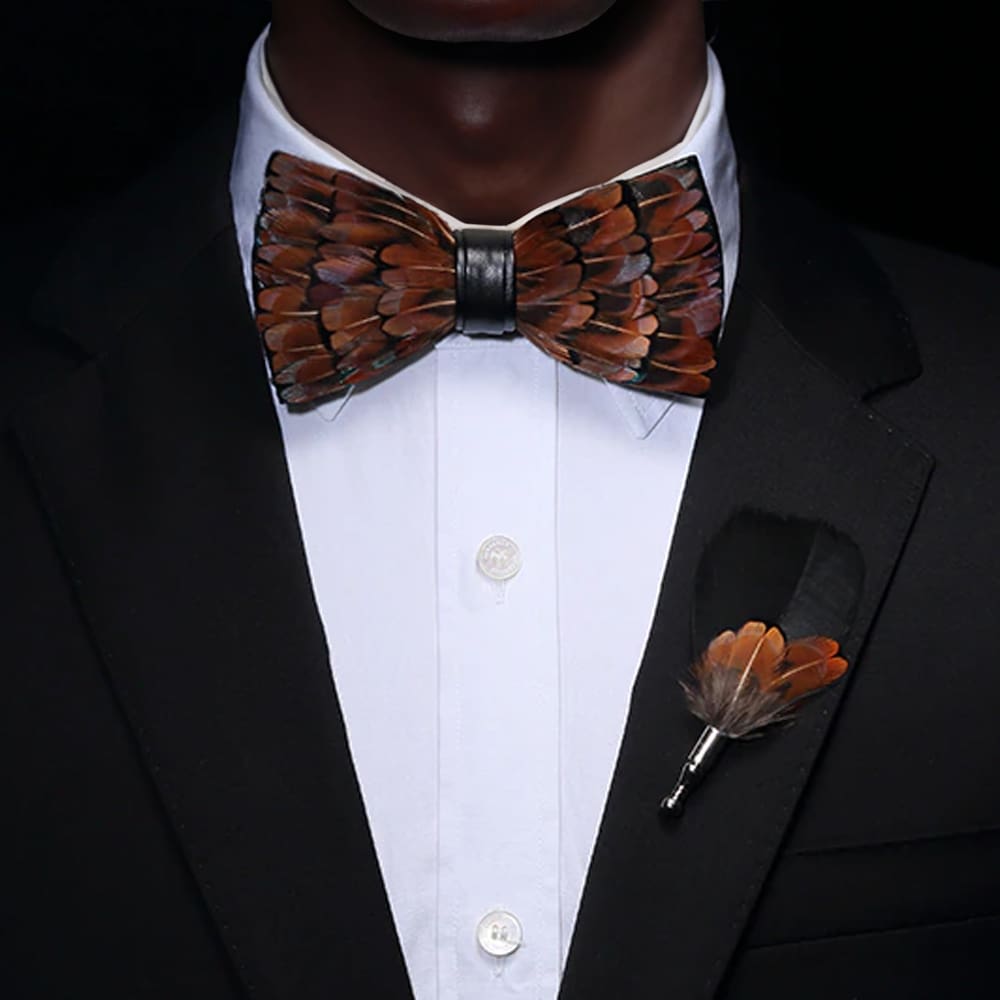 The Trenton Savant Plume Feather Bow Tie and Pin
Just imagine this scene. You're standing in a crowded room.
The lights are dim. A quiet hum of high-brow chatter fills the air.
Then, the spotlight swings your way. You're dressed in your finest attire, but what catches everyone's attention is that distinctive accessory adorning your neck – a bow tie, but not just any bow tie.
You're wearing the Trenton Savant Plume.
Boasting a unique blend of black and brown feathers, the Plume is more than just a bow tie—it's a statement.
With its robust aesthetic, the Plume embraces rugged elegance, embodying the Trenton Savant man's confidence and style.
The Art of the Feather
Let's talk about feathers. They are an embodiment of freedom, a symbol of elegance, and, when used in fashion, they make a bold statement.
The Plume borrows from nature's color palette with a unique pattern of brown and black feathers.
This blend of colors draws the eye and holds it, much like a rare piece of art.
For the Discerning Gent
A man who dons the Plume is not your average Joe. He's sophisticated, refined, and understands that a well-chosen accessory can elevate his look from stylish to unforgettable.
This feather bow tie isn't simply worn—it's showcased.
More Than Meets the Eye
However, there's more to the Plume than its striking appearance.
The feather design isn't merely about aesthetics—it's about challenging the status quo.
It's for those who dare to stand out, who refuse to blend into the crowd.
It's for men who aren't afraid to show the world their unique style and sophisticated taste.
Make a Statement
So, why not elevate your wardrobe with the Trenton Savant Plume?
It's not just an accessory—it's a conversation starter, a testament to your unique style, and, above all, it's a bow tie for those who know that luxury is in the details.
To the Trenton Savant man, a bow tie is more than just a piece of fabric.
It's an extension of his personality, a symbol of his love for the finer things in life.
So, if you're ready to make a lasting impression at your next social event, choose the Trenton Savant Plume. Because life's too short to wear boring bow ties
Product Specifications:
Composition:
Crafted from a blend of exquisite feathers and premium cotton to ensure durability while maintaining an air of luxury.
Color Palette:
Features a stunning blend of rich black and warm brown, and light aquamarine feathers, adding depth and visual appeal to your ensemble.
Dimensions:
Measures 11.5cm x 6.5cm, striking the right balance between subtlety and statement.
Package Contents:
Each order includes the exquisite Savant Rhapsody Bowtie, complemented by a matching lapel to complete your look.