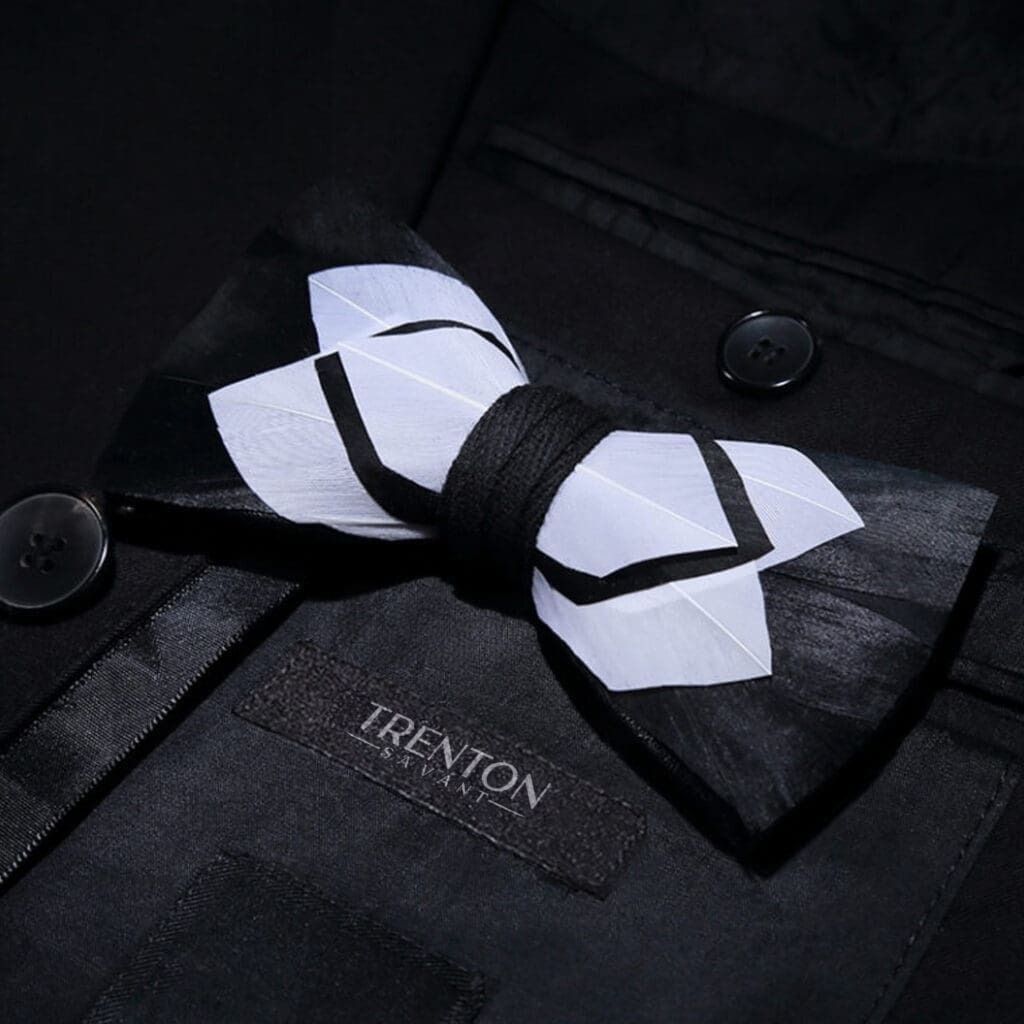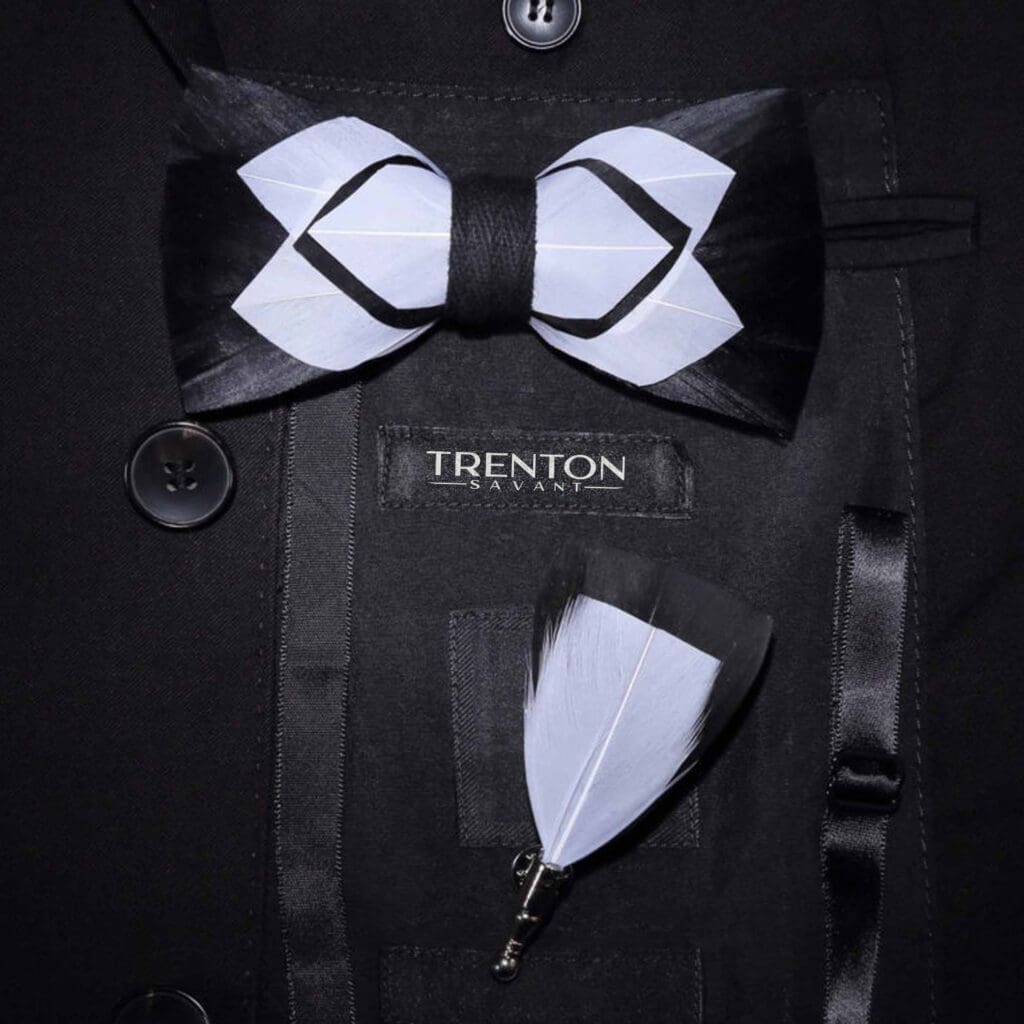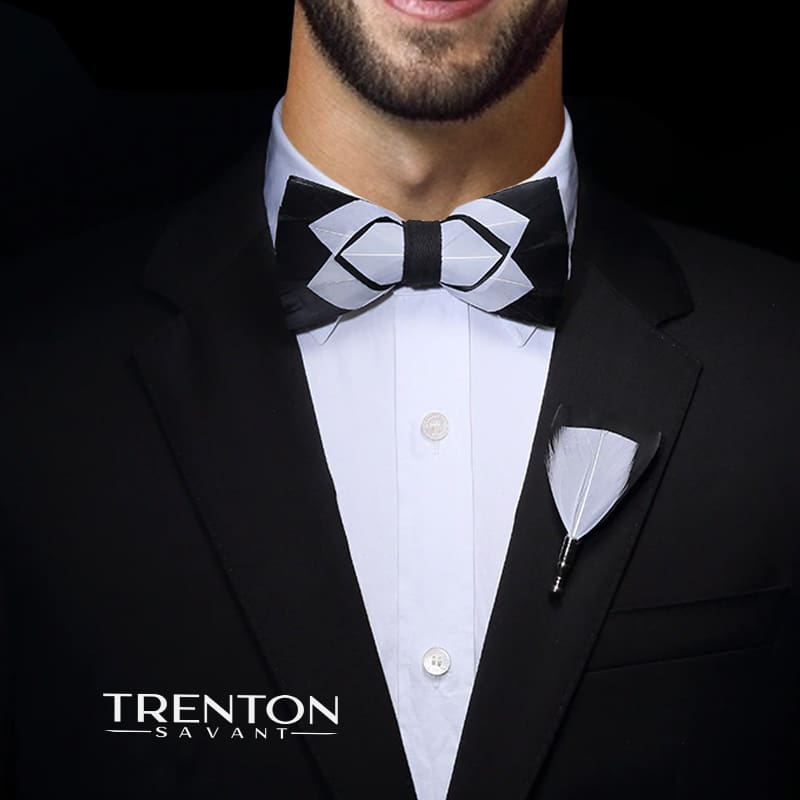 Introducing Trenton Savant's "Tuxedo Twilight"
Ladies and gentlemen, allow me to present you the "Tuxedo Twilight," a statement piece from Trenton Savant that redefines what a feather bow tie can be.
Crafted for the modern, stylish man, this bow tie seamlessly blends the timelessness of black and white with an undeniably contemporary twist.
Every Tuxedo Twilight bow tie begins with a thoughtful selection of feathers, each handpicked for its color, texture, and ability to capture the essence of twilight – that magical moment when day and night meet, and everything is touched with a hint of mystery and elegance.
The Artistry Behind Your Tuxedo Twilight Bow Tie
Here's a little-known fact about our feather bow ties: each piece is meticulously assembled by our master craftsmen.
Their artistic finesse ensures that every feather tells a part of the whole story, flowing seamlessly from the intense black to the soft, almost ethereal white. This isn't just a bow tie – it's a wearable piece of art.
Picture this: you're stepping out for an evening event, your Trenton Savant Tuxedo Twilight bow tie sitting perfectly around your neck.
The murmurs of admiration are almost immediate – everyone is captivated by the way your bow tie catches the light, its layers of feather creating a mesmerizing 3D effect.
Whether you're heading to a black-tie event or an intimate dinner date, the Tuxedo Twilight bow tie adds an exciting dimension to your outfit.
It's bold without being overbearing, and elegant without being dull – the perfect statement for a man who knows his style.
Trenton Savant – A Promise of Luxury and Uniqueness
With Trenton Savant, every piece is more than just an accessory.
It's a symbol of our commitment to provide you with unique, high-quality pieces that tell your story.
Just as every feather in the Tuxedo Twilight bow tie is unique, so is every man who chooses to wear it.
So go ahead, embrace the exquisite blend of black and white in our Tuxedo Twilight bow tie.
Let it tell your story of sophistication, elegance, and a taste for the finer things in life.
Because when you choose Trenton Savant, you're not just wearing a bow tie – you're wearing a statement, a story, a promise of quality.
Material Composition:
Premium Feathers, High-Quality Leather
Color Scheme:
Timeless Black and Crisp White
Size:
Perfectly Proportioned at 11.5CM X 6.5CM
Set Includes:
Elegant Bowtie and Matching Lapel Pin