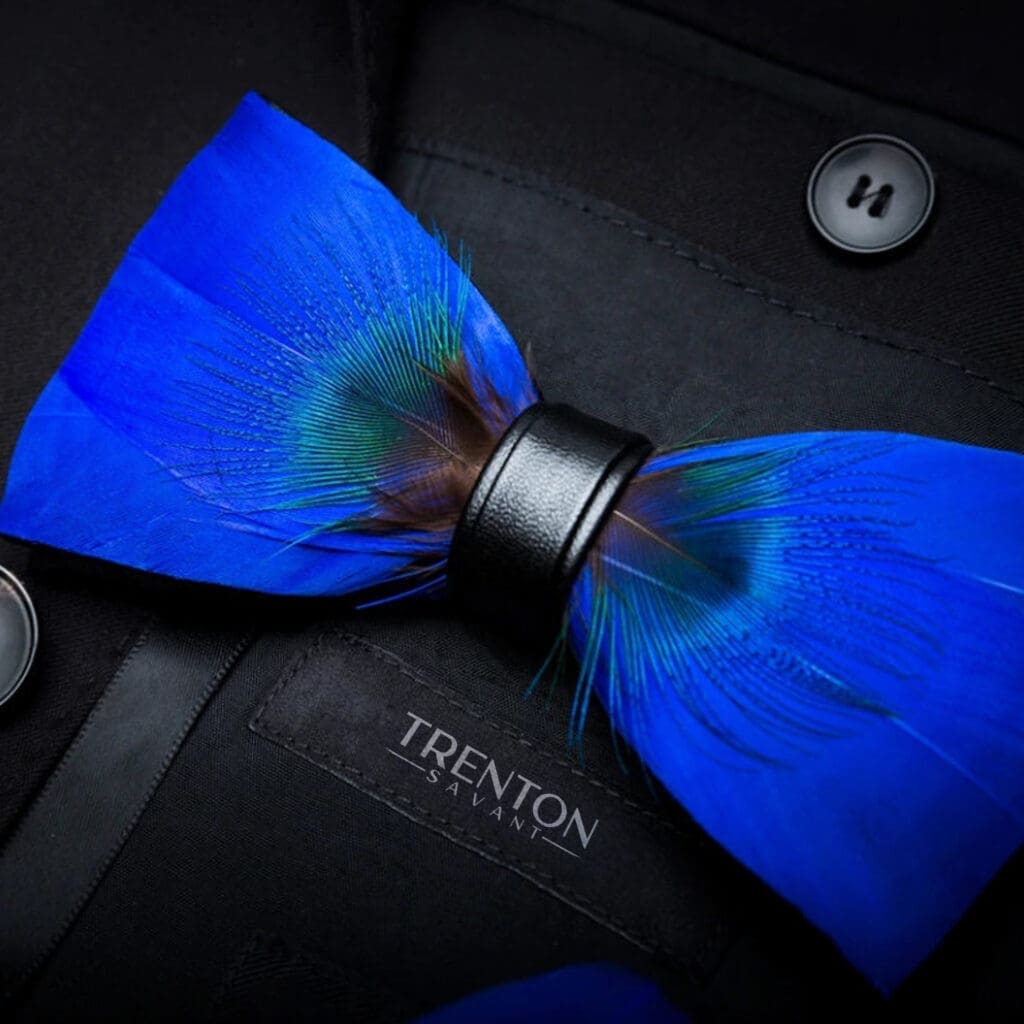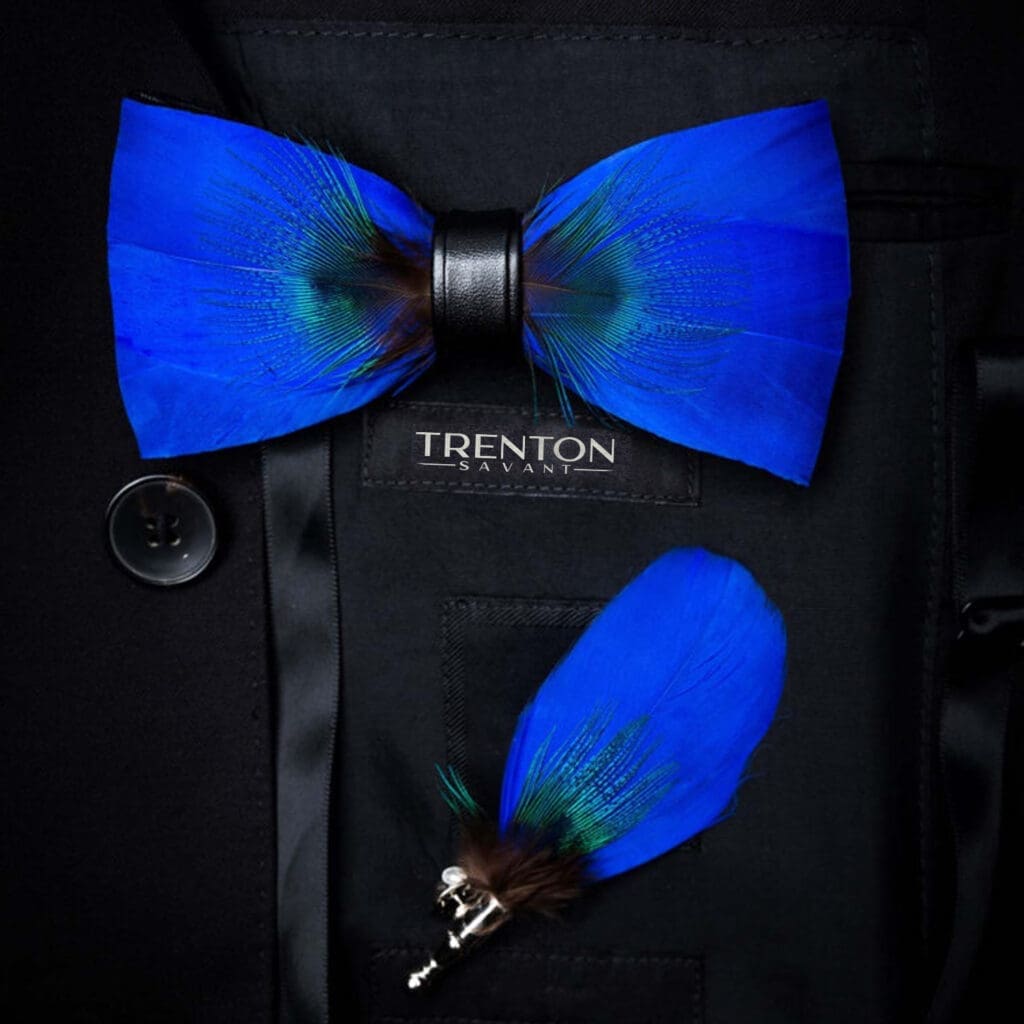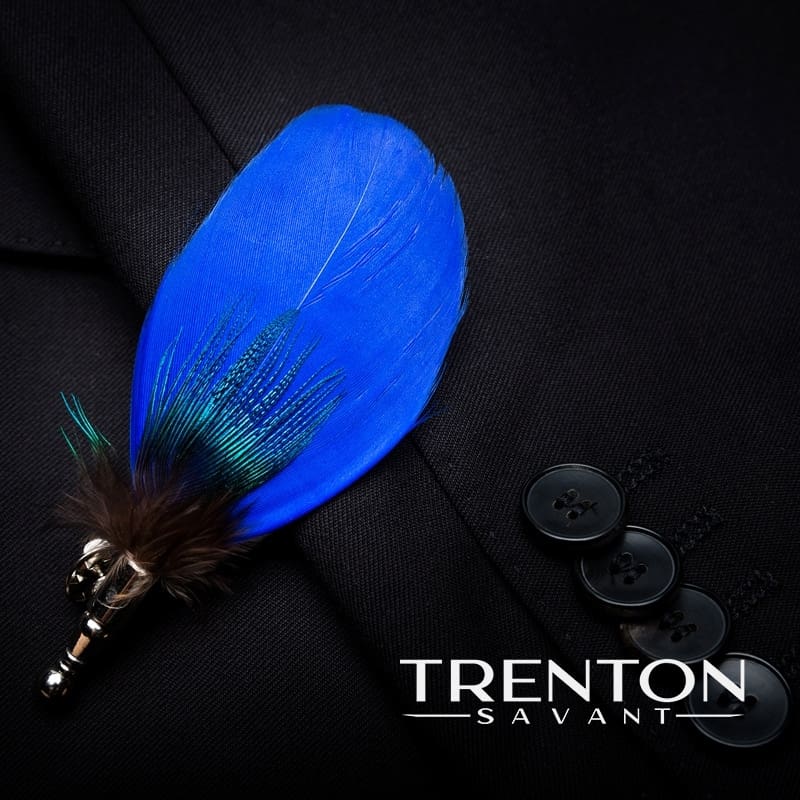 The Aristocrat's Charm: Oxford Blue with Peacock Center Feather Bow Tie & Pin
A Grand Entrance
There's something mesmerizing about walking into a room and knowing all eyes are on you.
The Oxford Blue shade, complemented by peacock feathers, gives you the poise and confidence reminiscent of my first gala event – a night filled with captivating conversations and admiring glances.
Sensual Elegance
The delicate touch of peacock feathers in the center brings out an unspoken sensuality that resonates with the allure of a symphony or a romantic evening by the fireplace.
Timeless Class
The Aristocrat's Charm is like a vintage wine – mature, sophisticated, and forever in style.
It's the very essence of the classic novels I've treasured over the years, each page a celebration of timeless elegance.
Why Choose The Aristocrat's Charm Feather Bow Tie & Pin?
Exquisite Craftsmanship
Akin to the handcrafted woodwork in a historic estate, every stitch, every feather is chosen and arranged with meticulous precision.
It's a testament to quality, much like the exclusive art pieces that grace my home.
Unparalleled Uniqueness
The inclusion of small peacock feathers in the center sets this Feather Bow Tie apart.
It's that splash of color in a monochrome painting or the unexpected plot twist that makes a story unforgettable.
Embody Masculinity
With its rich Oxford Blue tone, The Aristocrat's Charm Feather Bow Tie & Pin resonates with manly grace and integrity.
Like a firm handshake with an old friend, it symbolizes trust and authenticity.
Indulge in Luxury
Just as the soft caress of silk sheets, the texture of this Feather Bow Tie invites you to explore a world of luxury and comfort that only a privileged few have the key to.
In Conclusion – The Aristocrat's Charm Feather Bow Tie & Pin
The Aristocrat's Charm is more than an accessory; it's a mark of a man who knows his worth and isn't afraid to show it.
It's about embracing your inner nobility, letting your persona shine through every nuance of this immaculately designed Feather Bow Tie.
Take a step into a world where quality meets style, where elegance is not just a word but a way of life.
It's your turn to experience the luxury that is The Aristocrat's Charm Oxford Blue Feather Bow Tie & Pin with Peacock Center.
Elevate your wardrobe, elevate your life. It's your time for The Aristocrat's Charm.
Product Details:
Material:
Feathers, Cotton
Color:
Blue, Green, Brown
Size:
Skillfully crafted to measure 11.5CM X 6.5CM
Package Includes:
Feather Bow Tie and Matching Lapel Pin