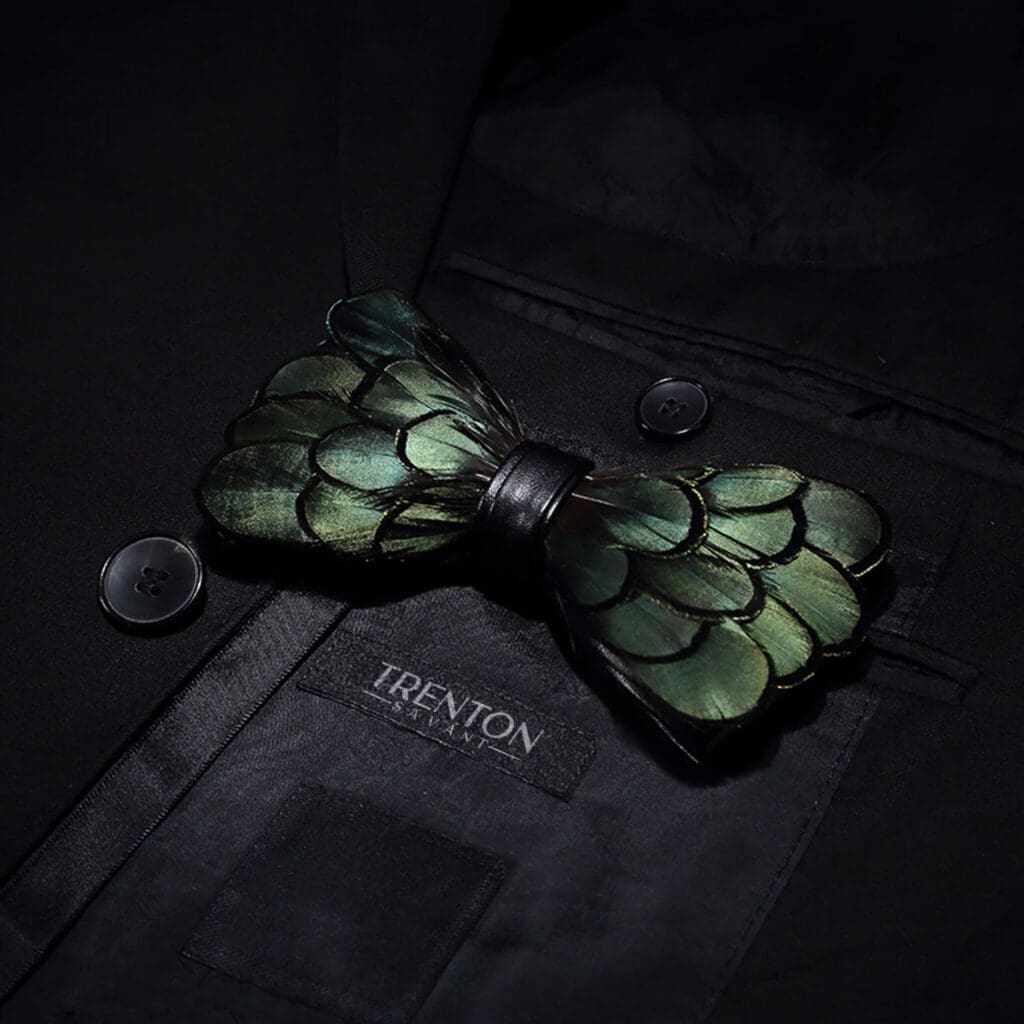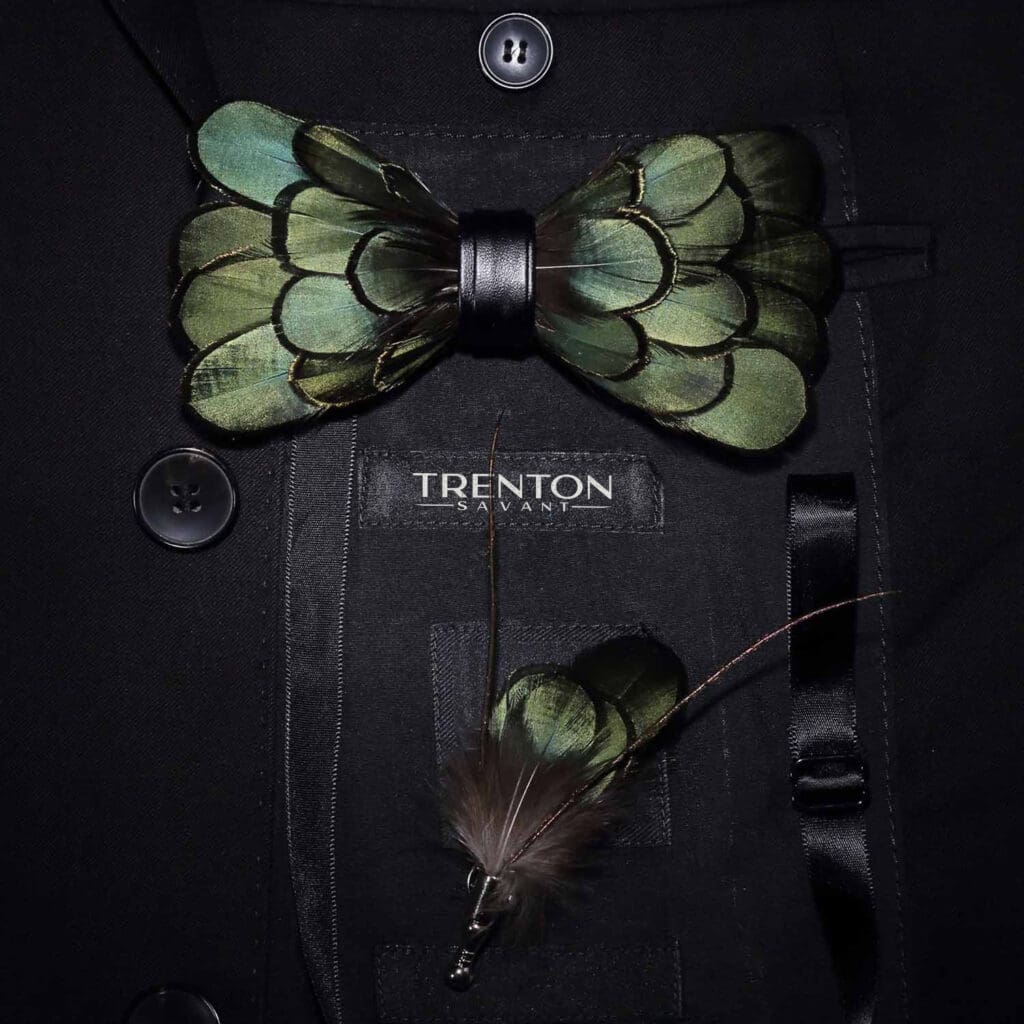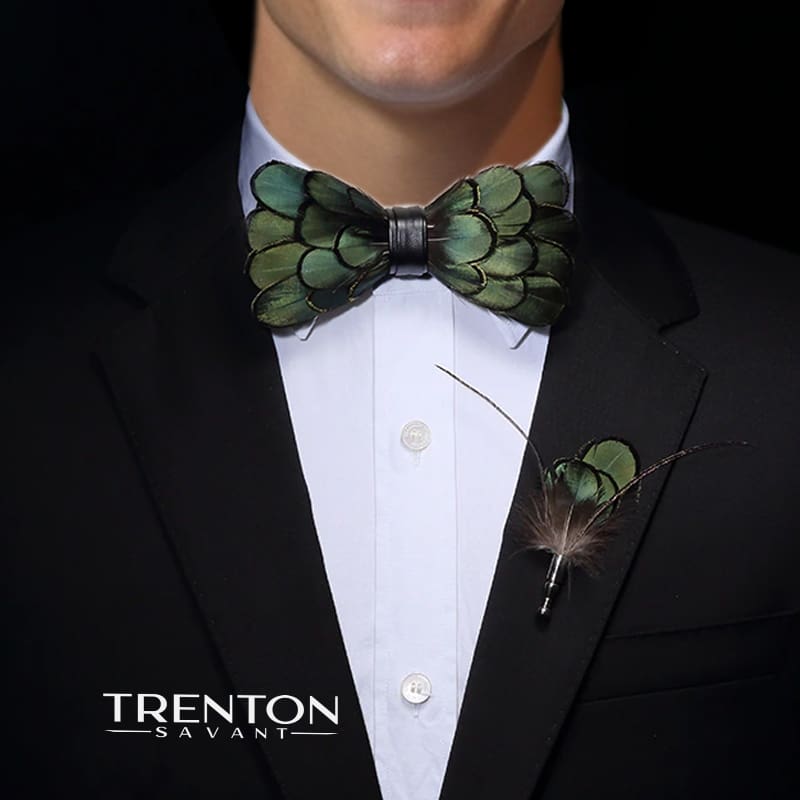 A Statement of Elegance – The Emerald Noir Feather Bow Tie & Pin
In a world where first impressions often make the lasting ones, Trenton Savant presents the Emerald Noir feather bow tie.
This unique masterpiece stands at the intersection of tradition and innovation, bringing forth an accessory that is sure to elevate your ensemble to the realm of the extraordinary.
Defying Conventional Aesthetics
At Trenton Savant, we believe in breaking the mold and stepping beyond the boundaries of conventional fashion.
Our Emerald Noir bow tie is a testament to this philosophy. Made with an all-green color palette, the bow tie features layers of pistachio green feathers tipped in black, creating an engaging 3D look.
This intricate design sets it apart from other accessories and grants it a unique allure that captures attention and holds it.
Here, fashion meets art in a dance of elegance, giving birth to a bow tie that's both beautiful and distinctive.
The Power of Pistachio Green
Green is the color of life, renewal, nature, and energy. But pistachio green? That's a class all its own.
Pistachio green is the subtle whisper of spring, the hushed undertone of an enchanting forest, and the quiet murmuring of the sea on a warm summer's day.
It's vibrant yet calming, classic yet contemporary. When styled as a bow tie, pistachio green becomes an instant classic, adding a touch of refined freshness to your wardrobe.
It's a color that can inspire, delight, and transform the ordinary into the extraordinary.
A Legacy of Craftsmanship
Behind every Trenton Savant product lies a legacy of superior craftsmanship and dedication to quality.
Each Emerald Noir bow tie is meticulously handcrafted with attention to the smallest detail, ensuring that you receive a product that mirrors our commitment to excellence.
When you wear a Trenton Savant bow tie, you're not just wearing an accessory – you're carrying forward a tradition of luxury, style, and elegance.
The Emerald Noir: More Than a Bow Tie
The Emerald Noir is more than just a feather bow tie; it's an experience. It's a statement of your commitment to quality, your unique taste, and your devotion to personal style.
It's not just about what you wear, but how it makes you feel – confident, sophisticated, and undeniably stylish.
The Emerald Noir isn't just an accessory you add to your wardrobe – it's a story you add to your style narrative.
And in the world of fashion, stories are everything.
So go ahead and let the Emerald Noir feather bow tie tell your story.
It's time to step into the spotlight and let your style speak for itself.</p>
Materials:
Crafted from Finest Feathers & Luxurious Leather
Color Palette:
An Eye-Catching Blend of Green & Black
Dimensions:
Tailored to a Perfect 11.5CM X 6.5CM Size
Package Contents:
Includes Exquisite Bowtie & Coordinated Lapel Pin