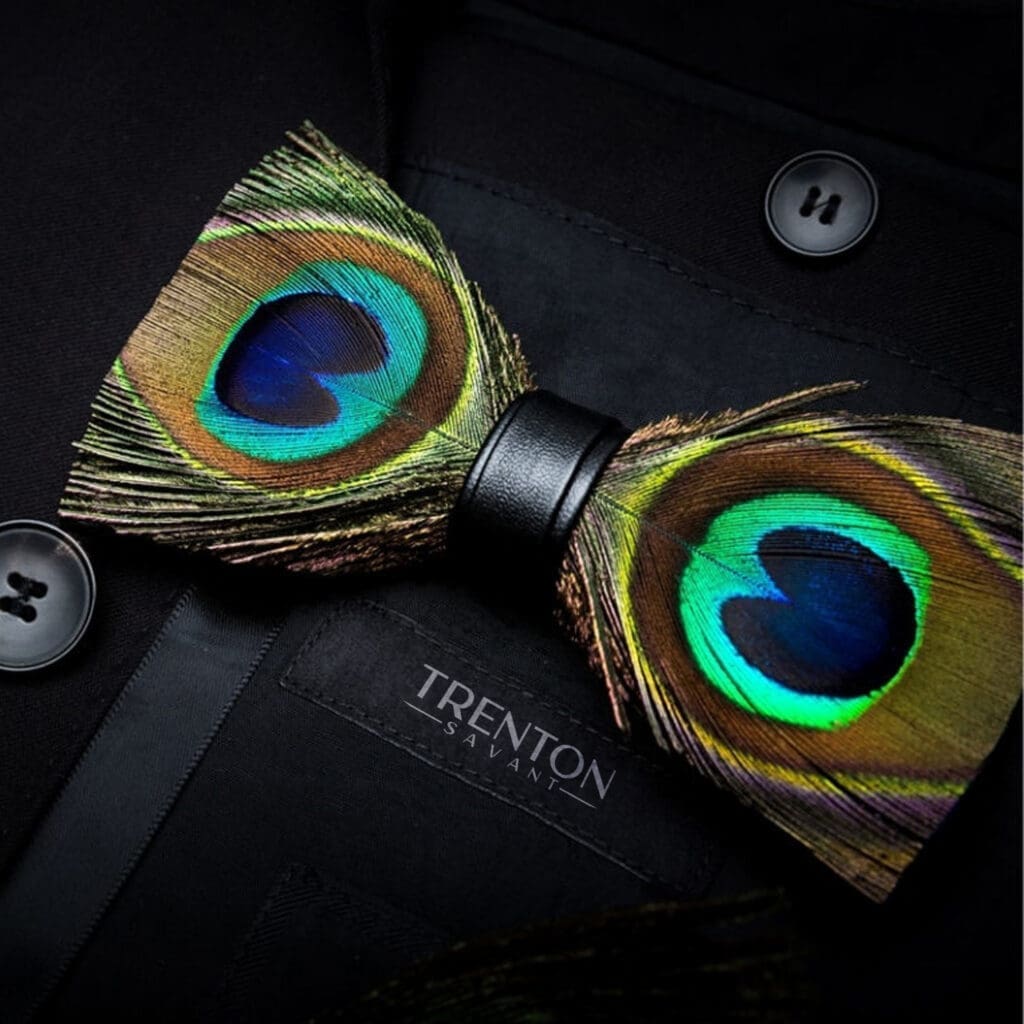 Experience the Elysian Elegance of Peacock Symphony
Colors of a Majestic Bird
The rich and vibrant colors of this Feather Bow Tie tell a tale of regality and charm.
I remember watching a peacock spread its feathers in a garden once; it was a sight to behold, just like this bow tie.
A Touch of Sexy
Green for mystique, blue for depth, yellow for warmth, brown for earthiness, and purple for passion.
Each color in this Feather Bow Tie invites you to experience different dimensions of your personality.
Handcrafted Luxury
Artistry in Detail
Our artisans have meticulously crafted this Feather Bow Tie with passion, echoing the intricate patterns and colors of peacock feathers.
It's a work of art designed for the men who appreciate true elegance.
A Statement of Class
Wearing Elysian Elegance isn't just about fashion; it's a declaration of your exquisite taste and belief in quality.
It's as inspiring as the time I sat front row at a fashion week, feeling the heartbeat of creativity.
Perfect for Every Occasion
Flexible Elegance
Whether you are at a business meeting, a gala event, or a romantic evening, this Feather Bow Tie adapts to your style, enhancing your look with an air of opulence.
Quality That Speaks
We believe in our product, and we know you will too. This Peacock Symphony Feather Bow Tie is not just an accessory; it's a piece of art that makes you stand tall, confident, and effortlessly elegant.
Conclusion – Elysian Elegance: A Symphony of Style
Elysian Elegance is a celebration of your unique style, your belief in luxury, and your pursuit of the extraordinary.
As you tie this Feather Bow Tie around your neck, you're not just wearing a fashion statement; you're embracing a world of elegance, uniqueness, and class.
Just like the peacock stands out in nature, this bow tie ensures that you are unforgettable.
Join the symphony; experience the Elysian Elegance.
Product Details:
Material:
Feathers, Cotton
Color:
Multicolour/p>
Size:
Skillfully crafted to measure 11.5CM X 6.5CM
Package Includes:
Feather Bow Tie and Matching Lapel Pin