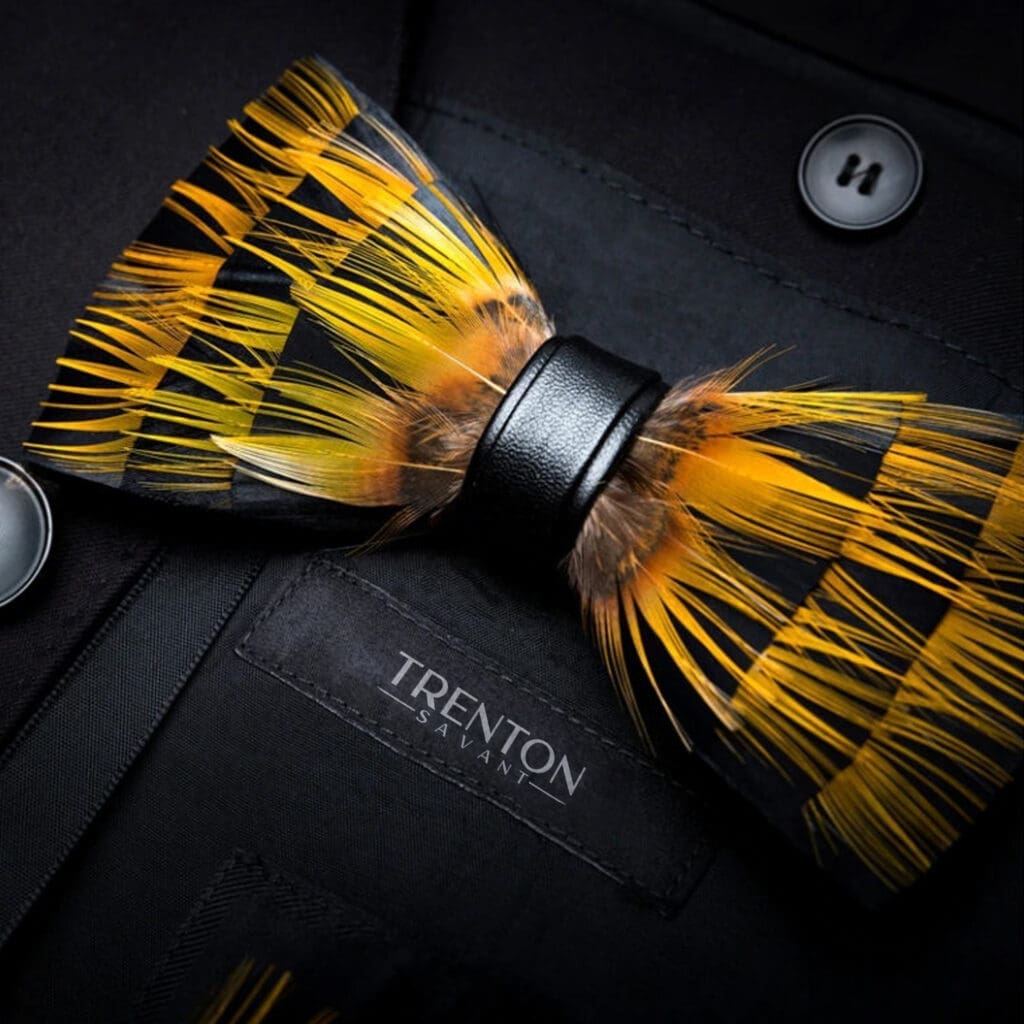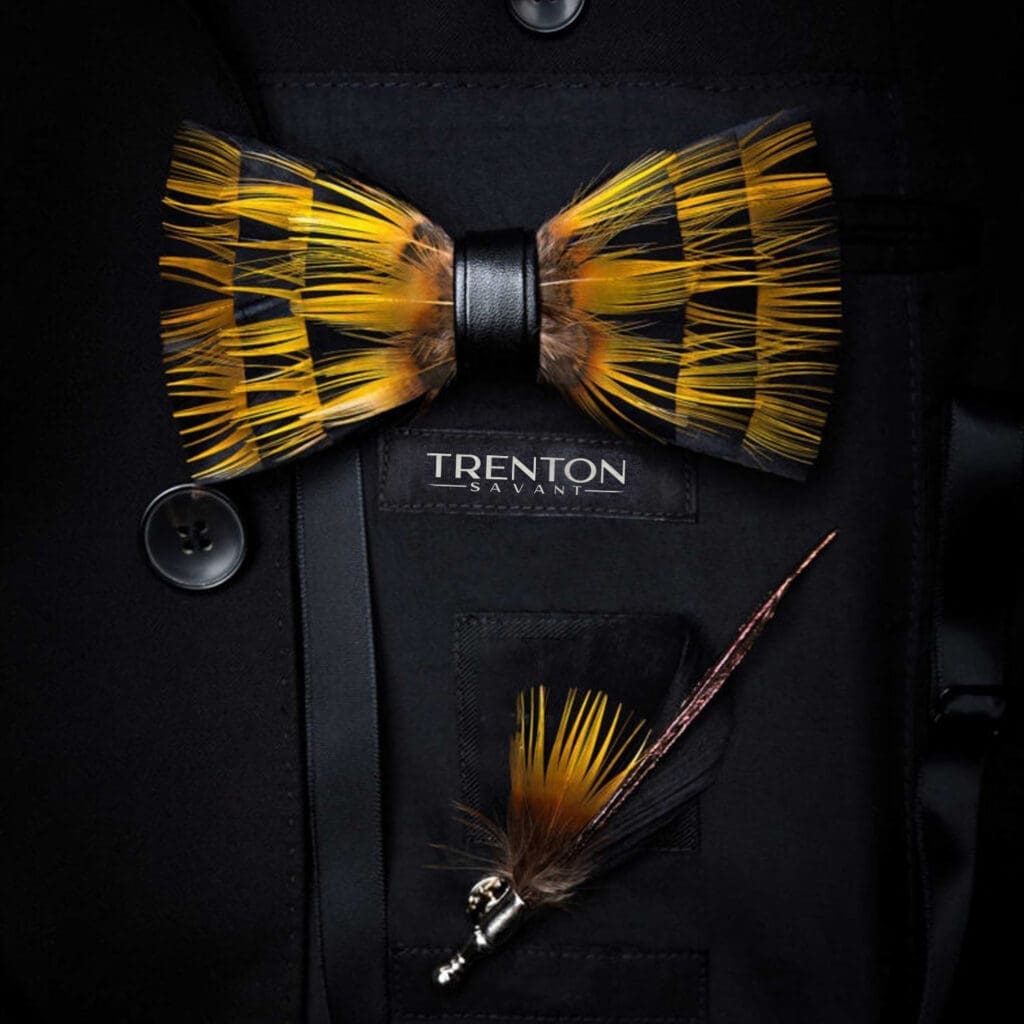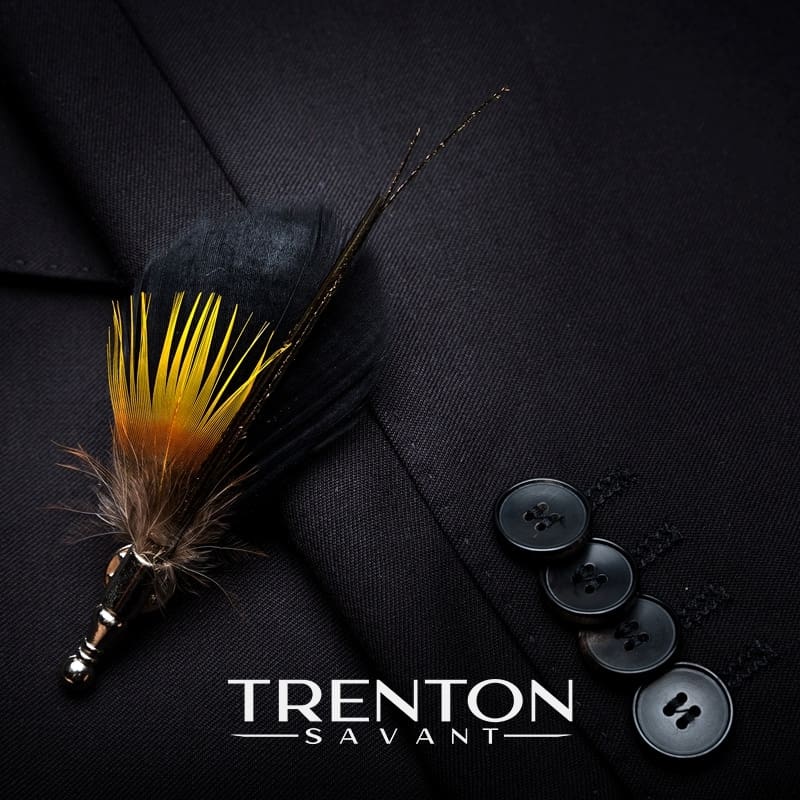 The Horizon's Embrace: A Golden Opportunity to Shine
An Ode to the Sunset
This yellow and black Feather Bow Tie brings to mind the cherished memories of sunsets I've witnessed on my travels.
Each feather recreates a sun-kissed sky, embracing your charm.
A Luxury Like No Other
A Feather Bow Tie is more than an accessory; it's a statement.
It's the warm smile, the firm handshake, the intriguing conversation.
It's the details that make you, uniquely you.
Embodying Elegance
Just as the tailored fit of a bespoke suit, The Horizon's Embrace is designed with precision, mirroring the perfection of the universe, the elegance of nature.
Your Invitation to a World of Prestige
The Art of Craftsmanship
The intricate pattern of this Feather Bow Tie is reminiscent of the fine art hanging in my study, an unspoken agreement of grace and style between the artist and the wearer.
An Inspiration to Many
Like the stories I've shared with dear friends, The Horizon's Embrace isn't just a product; it's a sentiment, a connection, a lasting bond.
A Statement of Success
It's for the gentleman who knows his worth, who walks with purpose, much like my first steps into a world of success and realization.
The Perfect Gentleman's Companion
Wearing this Feather Bow Tie is like an eloquent speech, a thrilling book, a captivating melody. It's your voice in the symphony of life.
A Celebration of Masculinity
Embrace the strong, enduring essence of manhood with a touch as gentle as the words I've shared with my son, as we watched the sun melt into the horizon.
In Conclusion – The Horizon's Embrace Golden Sunset Feather Bow Tie & Pin
This isn't just a yellow and black Feather Bow Tie; it's a rendition of life's most beautiful moments, a keepsake of the warmth of a golden sunset.
It's an experience, a journey, a celebration of life's grace and elegance. Wear The Horizon's Embrace, and let the world see not just who you are but who you aspire to be.
Let your Feather Bow Tie be more than an accessory; let it be a declaration of your unique story.
Product Details:
Material:
Feathers, Cotton
Color:
Black and Yellow/p>
Size:
Skillfully crafted to measure 11.5CM X 6.5CM
Package Includes:
Feather Bow Tie and Matching Lapel Pin